Business is hard right? But, there are two types of people. Those who struggle to implement tactics thinking that's how to grow your business. And those who focus on growing their MINDSET. At Fearless Business we focus on 3 core pillars: 1. First we nail your PRODUCT/OFFER, we teach you how to build a sustainable business doing something you love. 2. We fix your PRICING - this is mostly mindset, learning how to charge 2-3 times your current prices. 3. And finally LEAD FLOW, we show you how to get leads and convert them at your higher price point. For more information visit: https://fearless.biz and https://www.robinwaite.com
Episodes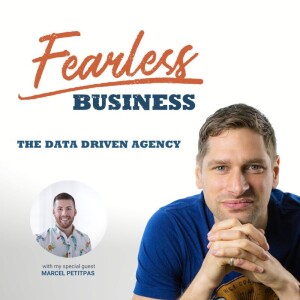 Wednesday Feb 22, 2023
Wednesday Feb 22, 2023
Marcel Petitpas is the CEO & Co-Founder of Parakeeto, a company dedicated to helping agencies measure and improve their profitability by streamlining their operations and reporting systems, a problem he discovered while running his own agency back in his early 20's.
He's also the fractional COO at Gold Front, an award-winning creative agency in San Francisco working with brands like Uber, Slack, Keap and more. As well as the head strategic coach at SaaS Academy by Dan Martell, the #1 coaching program for B2B SaaS businesses in the world.
In his work as a speaker, podcast host and consultant, specialising in Agency Profitability Optimisation, he's helped hundreds of agencies around the world measure the right metrics and improve their operations and profitability.
When he's not helping agencies make more money, he's probably watching "The Office" or "Parks and Rec" on a never-ending loop and eating breakfast foods for every meal of the day. 
What will be discussed on today's show: 
How agencies should measure their performance

Key metrics to track

Targets to aim for & industry benchmarks

Exactly what formulas to use to calculate them

Example metrics:

Financials (Revenue, AGI, Gross Profit, Net Profit, Overhead Spending)

Utilisation Rates

Average Billable Rates

Labour Efficiency Ratio
What is Marcel Working on Right Now:
How to get hold of Marcel: 
Instagram: https://www.instagram.com/getparakeeto/
Linkedin: https://www.linkedin.com/in/marcel-petitpas-20059588/
Twitter: https://twitter.com/Parakeeto
Facebook: https://www.facebook.com/agencyprofitability 
Website: http://www.parakeeto.com/ 
To find out more about Fearless Business: 
Join our amazing community of Coaches, Consultants and Freelancers on Facebook:
>> https://facebook.com/groups/ChargeMore 
And check out the Fearless Business website:
>> https://fearless.biz and https://www.robinwaite.com